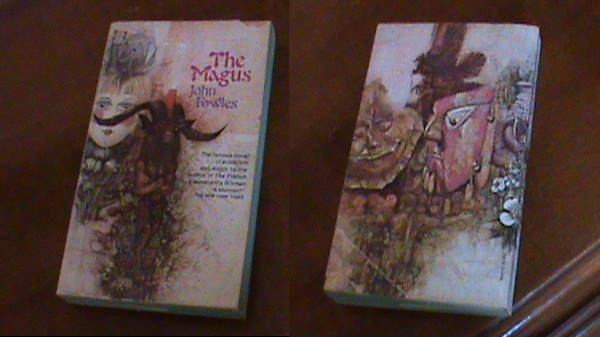 I got a third-class degree and a first-class illusion I was a poet. But nothing could have been less poetic than my pseudo-aristocratic, seeing-through-all boredom with life in general and with making a living in particular. I was too green to know that all cynicism masks a failure to cope – an impotence, in short.

Handsomely equipped to fail, I went out into the world.
It poured with rain the day I left. But I was filled with excitement, a strange exuberant sense of taking wing. I didn't know where I was going, but I knew what I needed. I needed a new land, a new race, a new language; and, although I couldn't have put it into words then, I needed a new mystery.
The picture above (taken with the only crappy camera I could find) is of the book I received today, The Magus by John Fowles. I was able to order it for cheap from the used books on Amazon, and I was glad to find out that this copy I was able to get was indeed the one published in 1974.
I could have bought a newer edition but this one got the best cover (not as good as the original hardcover, but better than… this) and, more importantly, every review I read mentioned that the original version was superior to the revised one, and the revised one is the only one that is published these days. The revision was published in 1977, so if I could find a version prior to that date I could be certain it was the one I wanted. For the most part, what is criticized about the revision is that the writer attempted to clarify the mystery of the book, but ended up defusing and lessening that valuable and meaningful air of mystery. It was essentially made more accessible, but also less powerful. Since what interests me is the myth and mystery, I had to get the first, uncompromised version.
Not sure if the book will make my official reading queue and if I'll continue commenting it, but for now I read the first chapter (and it's excellent) and compared with the revised version available on Amazon. The differences are minimal, some spelling changes and unneeded grammar fixes. The biggest change I found was "we argued about essence and existence" turned into "we argued about being and nothingness".
Bakker's recent analysis of fiction is a meaningful one (pun intended). I'd say this book is certainly trying to "max out meaning", but contrarily to Bakker, the romantic vision is one that, once relocated and properly understood, still carries value for me (but this becomes again another contradiction, as you might imagine).