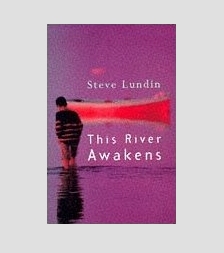 I was young and still making my world.
Oh, this book. If you know me from past reviews or forums you know I'm a big fan of Erikson and his immense Malazan series, but it still wouldn't be just enough to make me interested in whatever he's going to write in the case it goes out of the boundary of his fantasy series. This book was published one year before "Gardens of the Moon", the first book in the Malazan series, and it can be considered "mainstream", meaning that it's a story set in our world and without any fantasy element in it. That puts it right beyond my reach, because, as I explained, my interest is limited to his fantasy work. I bought it because a new version is coming out in January, revised, and I found out that only used copies were available of the old one, that also had a much better cover. It cost me just around two dollars, so it was an handful of trivial details that made me buy it on a whim, and when it arrived I started to read since it was also a nice change of pace from books exceeding 800 pages (this one being "only" 359). Just curiosity.
I was expecting to find some seeds from which the Malazan series would grow, and a style of writing yet to mature, rougher even compared to GotM, that would show the hints of the kind of writer Erikson would become later. I was expecting to find that kind of hidden talent still to blossom that you can discover when reading the early works of some important writer. Now that I turned the last page, and certain of what I'm saying, I'm bewildered because this is Erikson's best work, and by a fair, safe margin. It's so much better, stronger, sharper, more powerful. Despite having liked a lot GotM I'm between those believing it has its flaws. It shows promise but it's only the spark of what comes after it. It shows a writer that has talent and insight, on the right path but still compromising a lot and finding his voice. I argue about these flaws in discussions, but I recognize they often are legitimate. Well, for me that excuse won't hold anymore, because I have in my hands a book, published one year before, that turns those specific weakness that many recognized into its sharpest points. This book excels on those specific aspects that were widely recognized as weaknesses in GotM. The characters feeling pulled randomly out of a roleplaying game and not developed, the plot that seemed to move without cause and effect, "not caring" about was going on. Being left cold, unengaged by a story folded on itself and without showing access points to let the reader in. A cold, confusing, contrived and apparently shallow world that only a certain type of geek could find interesting.
"I didn't care" is probably the most hurtful thing you can tell a writer, any writer. You are telling them that their work left you cold, unaffected. Unfeeling. A story that was a waste and wasn't worth spending time reading. It means failure even if that work has been interesting in some other ways. Every reader knows of holding that weapon, and will leash out to stab viciously without a second thought. That's the nature of the deal and I've often found it in discussions about the Malazan series. Even if my opinion is different, I still recognize some truth in those claims. This part of the discussion could go on about the details, but it serves me to say that "This River Awakens" turns everything on its head. So often we all suggest readers to try again, to stick with the Malazan series and go at least through the second book, because it gets so much better, the prose is better, and so many of us completely changed opinions reaching that further point. The excuse we make is that almost ten years passed between the writing of the first and second book, and Erikson improved immensely, just you see. Well, that excuse can't hold anymore because "This River Awakens" shows a sheer talent already fully mature (you could fool me telling me this book was written -after- the whole Malazan series). It has characters I'll remember forever and that seized forcefully my heart, and then squeezed. Books never, no matter what book, what writer, what genre, get me so emotionally that I feel the swelling of tears and a tightening inside, I don't know why, but books don't work for me that way. But this book breached anyway. "Not caring" here is impossible, I dare you. It kept me on the edge, turning pages with the heart tightening (and quickening) to find out what would happen. Sincerely, this book was emotionally the opposite of the Malazan series. That I love, you should know, but never gripped me this much viscerally. Not Itkovian (he's in this book too), not Felisin, not Heboric, not Coltaine and his Chain of Dogs. This book was more.
I know that the more I gush the less I'm credible, but this is the kind of book you want EVERYONE to read. A thing that can't be left private and forgotten, knowing you hold a kind of treasure that is your exclusive. But you have to read this book. I imagine it must feel frustrating for Erikson having written such a masterpiece, then become popular for writing three million words in a fantasy. I'm not belittling the genre, I mean that "This River Awakens" is a book that is indispensable to read even if it can't rely on hooks like epic wars, fireballs and dragons (though, there IS a dragon). It's a kind of book that too easily gets lost and forgotten in that uniforming sea that is "mainstream" literature, with no stars above to help orientating. This book is a "rite of passage" or "coming of age" story like millions out there, why picking, specifically, this up, from an unknown author (as Erikson/Lundin was at the time)? You write this book, so powerful, mysterious and filled with revelations, and then you see it drift out in the ocean and sink.
And I guess it must be also frustrating, would Erikson be coming to read this I'm writing, declaring that this early, first book is better than the three millions and five hundred thousand words he'd wrote afterwards. That he wouldn't get any better. But this I say because it's what I'm honestly thinking, and because this book just can't get pushed out into oblivion by that juggernaut that is his Malazan series. Admitting no distractions, or indulging outside what is already a pretty huge, even rare, commitment. This book needs to be read. Why, the book itself will tell you.
I've said how special this book was for me emotionally, but what it reveals is equally important. The seeds of Malazan are all there. This is a mythical book, filled with deep meaning and mysteries, as many you'd find in a Malazan book. It also shares its generosity, as everything will come together in a powerful way, revelation after revelation. The story will build, seeking a release. It will respect your intelligence and at the same time it won't bait you only to reveal that there's nothing behind the curtain (no magic, but permeated by sense of wonder and marvel). I need to say that, unlike GotM, there's no struggle to get in the story. It will be measured and is as character-driven, slice of life as it's possible. Something of its structure is shared with the Malazan style as you get to see a small village and a PoV for almost every character. This builds a system and you'll see as the story develops how each life and action causes ripples in this sort of community, all these stories will come together, naturally, by the time the book ends. In some ways it reminded me of Stephen King's IT (because of the four kids that make the core of the book) and Under the Dome, seeing this small system and how it develops. Only that Erikson can outmatch King all so easily, in what King does best: dealing with the monsters that brood and stalk in the shadows. These characters so splendidly written and real. If I have to find a flaw, being pedantic, is that in some lines of introspection some of that truthfulness of the characters breaks, because Erikson (as in the rest of his work) has a tendency to put things too beautifully into words, to overly articulate the thought, that is sometimes implausible when you are dealing with a thirteen years old. Even if I know to "never underestimate characters". (though we could open a discussion here, because it may also be justified and deliberate)
If "The Road" by Cormac McCarthy won (deservedly) the Pulitzer, this book should win symbolically twice the prize. That book dealt masterfully with the father/son relationship and you'll find some similar themes here, bereft of rhetoric. In a review on Amazon I've read the book described as repulsive because it contains "graphic descriptions of sick human behavior", well, that should be a warning because it can be indeed VERY dark and reveal unashamedly the ugly bottom of human soul. It won't flinch. Some themes may be eye-rolling inducing because already seen and refashioned millions of times in all mediums. There's an alcoholic father, there's domestic violence, violence on animals, a veteran from the war. But believe me that Erikson here has talent enough to veer away from that kind of rhetoric and commonplace. Not unlike David Foster Wallace, the worst of the worst characters with the depths of hell as their souls will still make you care for them. This kind of merciless and dark style of narration is never for sensationalism. But this is the kind of book that doesn't need any excuse or guidance, just read it, I'm sure you'll see on your own. I dare you to read it and "not care", just try, I'll eat my hat if you don't. No forum discussions needed to explain why this book is a masterpiece above any genre, or demarcation of any kind.
I thought about the stranger, the one who'd once used this secret room, the one who'd sat here at this desk absorbing words and words and words, swelling, bloating and still devouring pieces of the world, until its face had become every face, and no face. The stranger, who was no more in anyone's mind but mine. And the stranger's secret, this room and all its books, nothing but food for the rats.

I'd tried so hard. Dragging the giant to the history in this room. Dragging this history to the giant on his bed of sticks. I'd thought it important, as if in remaking the world I'd find in my hands a gift. Of understanding, of feeling, of something other than this shivering solitude.
Some other quotes here.