Steven Erikson shares the Malazan world with his friend and co-writer Ian Cameron Esslemont (ICE for short).
So if you want to read the complete story about that world things are slightly more complicate than with Erikson own storylines.
We have this scheme that works for the first seven novels:
Genabeckis Continent & campaign as main arc: books 1 & 3
Seven Cities subcontinent & rebellion as main arc: books 2, 4, & 6
Lether Continent and Tiste Edur: books 5 & 7
Book 1, 2 and 5 are ideal starting points, as they present each a new block. While book 6 is the first truly not standalone and leading right to the seventh. It's also with the sixth and seventh that most plots come together.
Chronologically the first would be book 5. Then book 1. Book 2 and 3 are simultaneous, and 4, 6 and 7 one after the other.
What we know about the remaining three books:
"Toll the Hounds" : It should be already complete or near completion and it should be out by August 08, with a contemporary publication in UK and US for the first time. It goes back to Genabackis (so the continent of book 1 and 3), and is supposed to have a huge climax at the end.
"Dust of Dreams" + "The Crippled God" : The last two books will read as one gigantic novel to give the series an epilogue. Erikson also confirmed that both books will take place in a new continent that was never used in his books.
—
This is about the "core" about the Malazan saga. Then there are spin-offs and complements. For future projects Erikson already said he could write a sort of prelude book "to explore the pasts of some of the Ascendents (such as Anomander Rake) before they became the powerful figures we see them as in The Malazan Book of the Fallen".
Then we have three "Bauchelain and Korbal Broach" novellas that shouldn't present continuity problems and that you can buy bundled here for $40. Not cheap but cheaper than their cumulative cost. Three more novellas are planned, like a second series to this book.
And finally Esslemont. His first so-so book "Night of Knives" is already out. Is better read before "The Bonehunters" (Malazan's 6th book) and chronologically sits before book 1.
His next book "Return of the Crimson Guard" was instead announced in a "normal" edition for 11 August 2008, along with "Toll the Hounds". But you may get it around January if you are willingly to spend $150 for a super-deluxe early ed.
Some complained that "Night of Knives" felt more like a novella than a fully realized novel like Erikson's books. For RotCG Erikson confirmed that the book counts 280k words, making it bigger than Deadhouse Gates for comparison (expect about 800 pages).
The book is probably better read after "The Bonehunters". And we have already a "review" (from westeros forums):
"One of the in-circle guys at Malazan who read the book felt it was more readable than Erikson's prose."
UPDATE – Still from westeros:
I got some information about the PS special edition as well.
It's due to be released in March. It's 266,000 words.
The covers will be done by the superb Edward Miller. Cover and synopsis should be up by Christmas.
–
Here's the summary.
Steven Erikson – Malazan Book of the Fallen
1. Gardens of the Moon
2. Deadhouse Gates
3. Memories of Ice
4. House of Chains
5. Midnight Tides
6. The Bonehunters
7. Reaper's Gale
8. Toll the Hounds – August 2008
9. Dust of Dreams – 2009
10. The Crippled God – 2010
Steven Erikson – Bauchelain and Korbal Broach novellas
1. Blood Follows
2. The Healthy Dead
3. The Lees of Laughter's End
Ian Cameron Esslemont
– Night of Knives
– Return of the Crimson Guard – August 2008
—
To conclude, some maps I collected. Still missing some.
– Malaz City
– Malaz Island
– Genabackis (original GotM)
– Genabackis (corrected MoI version)
– NW Genabackis (detail, from House of Chains)
– Quon Tali + Malaz island
– Central Malazan Empire (Quon Tali + Falari Isles)
– Korel – Land of Fist (From Stonewielder)
– Seven Cities
– Seven Cities (variant)
– Chain of Dogs – 1st half (Seven Cities east)
– Chain of Dogs – 2nd half (Seven Cities west)
– Lether
– Kolanse (From The Crippled God, western part of Lether)
– South Genabackis (From Orb, Sceptre, Throne)
– Assail
– Assail (detail)
This is the full world map as provided by Erikson (an old version but it should still be canon).
(click to enlarge)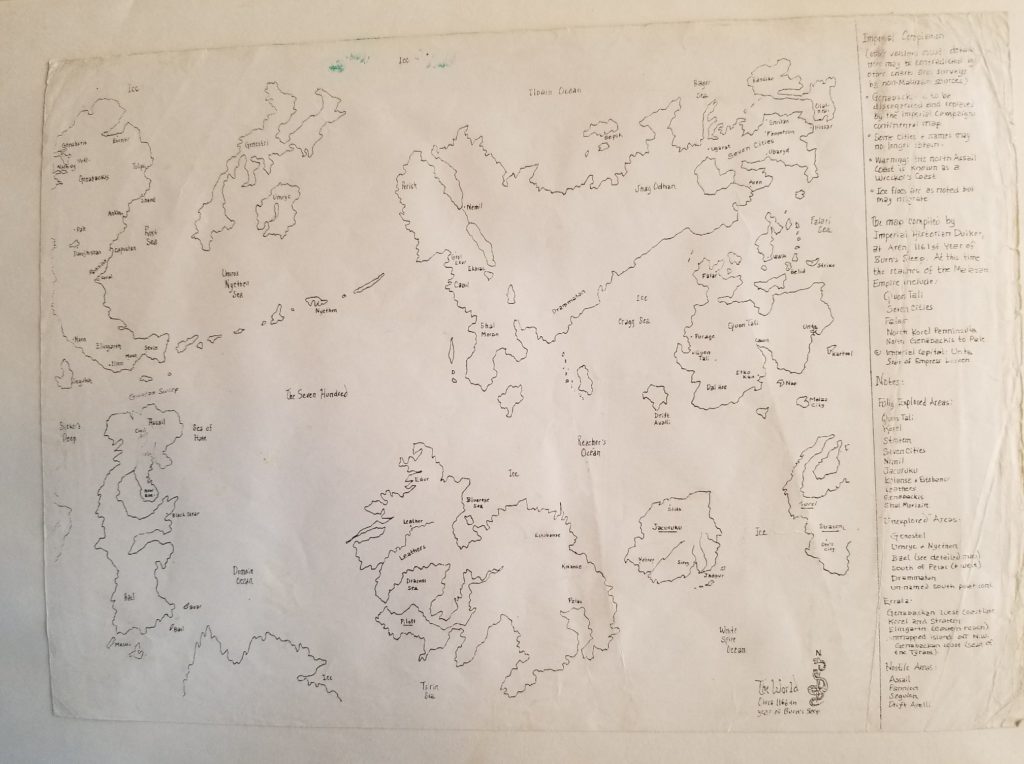 And this is the old tweaked mock-up I made on top of Werthead's own mock up. It was quite accurate, after all.